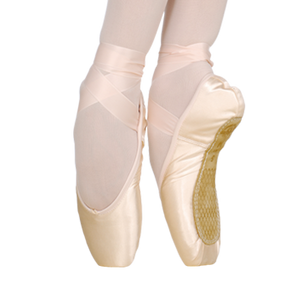 Grishko 2007 & 2007 PRO
 A U-shaped medium vamp with a drawstring, medium platform, machine-stitched suede sole. New anatomical form extremely supportive and comfortable for all kinds of feet. The specially designed extra light model with a suede machine-stitched sole provides an easy transition from the demi-pointe to the pointe and back. The shoe is distinguished by its perfect balance and placement, outstanding durability, lack of noise and perfect comfort.
Grishko pointe shoes are made in Moscow, Russia, by expert cobblers who craft each shoe individually by hand, using natural, non-toxic materials. The company designs its shoes based on in-depth study of anatomy and function, to best ensure superb performance and protect dancers' health and safety on pointe. Grishko's attention to detail includes balancing each shoe by hand; using cotton drawstrings to protect against tendonitis over-tightened elastic can cause; using glues that help the toe box mold beautifully to the foot; maintaining shank mobility at the heel without sacrificing support; designing both platforms and soles to be flat and stable for excellent balance on and off pointe; and selecting only the finest satin for a beautiful appearance. Grishko pointe shoes are considered reliable, durable and consistent.
ALL SALES ARE FINAL
NO RETURNS OR EXCHANGES ACCEPTED