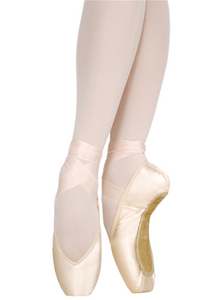 Maya I, with drawstring
This model has a V-shaped medium vamp and tapered box shape. LAST TYPE: Fouette
PRODUCT BENEFITS:
- Manufactured from natural materials, which provide excellent hygienic properties, offer a maximum of comfort.
- This shoe has a V-shaped medium vamp, medium toe platform and fits standard feet.
- The shoe is extra light because of the specially designed machine-stitched suede sole.
- The pale salmon satin shoe is extremely quiet and comfortable.
We recommend you to see "Maya I Pro" with sound absorbing Pro Technology making the shoe practically silent on stage.
Only 1 left - 6XXX M
Made In Russia
ALL SALES ARE FINAL
NO RETURNS OR EXCHANGES ACCEPTED